Government Predicts It Will Take 13 Years To Accomplish What They Already Accomplished 36 Years Ago

Several weeks ago, NASA unveiled plans to key White House staff members to put a man back on the moon by 2018. The plan involves building a new crew capsule, main engines, solid rocket boosters and massive external fuel tanks. The $100 Billion idea was presented to an advisor to U.S. Vice President Dick Cheney and President Bush's personal activities cooridnator, who would brief the President about them after he has finished his graham crackers and apple juice.

"We're very pleased with the progress we've made," said NASA Administrator Mike Griffin. "We've come a long way since 1969-- well, in terms of technology. I mean, now we have several different flavors of Tang!"

A few days later, President Bush arrived at Dick Cheney's office carrying an enevelope bearing the official seal of the President of the United States. Inside were the President's own ideas for reaching the moon, complete with a blueprint and detailed instructions: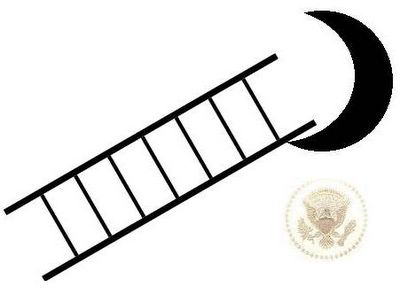 Step One: Build giant ladder.
Step Two: Climb ladder, blow moon up.
Step Three: Look for oil and candy inside.